Workshops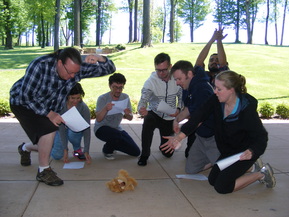 Workshops demonstrate the use of the Unrehearsed Cue Script Technique in general or can be tailored to a specific play. At the core of the work are 'The Ten Commandments of Staging and Blocking Shakespeare,' developed by Demitra Papadinis. All workshops are taught by Andy Kirtland and include an explanation of the environment in which Shakespeare worked, why he wrote the way he did and participants get on their feet to engage with the text in a practical manner.
ACTION TO THE WORD: A two-hour workshop that focuses on two of the most fundamental rules of the Unrehearsed Cue Script Technique when performing scenes and working on characters. Contact us for pricing.
THE UNREHEARSED PLAYBOOK: A full day workshop is six hours (plus breaks) and explores the rules of staging and blocking Shakespeare. Participants experience how poetic devices, grammar, spelling and punctuation help define characters and give actors clues to perform their roles. Contact us for pricing.
UNREHEARSED INTENSIVE: A two-day workshop gives the participants an in depth experience of the Unrehearsed Cue Script Technique. After intensive scene work with THE UNREHEARSED PLAYBOOK and close readings of the text as they relate to the action on stage, the participants will perform either scenes or an abridged play (depending on the number of participants) for an invited audience. Contact us for pricing.
---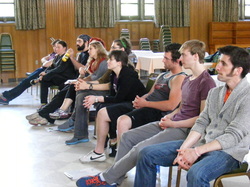 In-class workshops can be tailored to fit into any class period or any specific play your students may be studying.
We've led workshops at Point Park University, Slippery Rock University, West Virginia University and more!
For more information, please contact us via our
Information & Inquiries
mailbox.
---
---
Prompt Books and Cue Scripts

We have Prompt Books and Cue Scripts available to individuals and companies who want to become better acquainted with this way of working. These are great for actors looking for a new way to approach a character, to use as a teaching aid, or to use as a production tool. We recommend taking an Unrehearsed workshop in order to gain a better understanding of the cue scripts and how to use them.
Packages are
$150
and include a Prompt Book, Cue Scripts for all characters, instructions on how to put cue scripts together and notes on any variations between the Prompt Book and Cue Scripts. Currently available are:
As You Like It, The Comedy of Errors, Henry IV Part I, Julius Caesar
,
Macbeth,
A Midsummer Night's Dream, Much Ado About Nothing, Romeo and Juliet, The Tempest
and
The Two Gentlemen of Verona
. We will continue to add to the list, and will also take requests.
To order, please contact us at:
USP@newrentheatre.com
---
Let USP Entertain You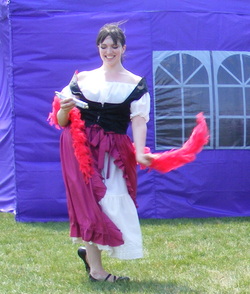 Would you like to have some Unrehearsed Shakespeare at your wedding, conference or event?
We can arrange to have two (or more) actors to perform some Unrehearsed Shakespeare scenes, which can be altered to fit your special occasion to make it even more special! We provide the actors, the cue scripts, and the costumes and they will delight your guests with romantic scenes, comedic scenes, politically charged scenes, scary scenes, or whatever scenes you prefer.
Contact us
for details, pricing or for more information on how we can bring Unrehearsed Shakespeare to your soiree.
---